"You know the problem with trying to be perfect? You always end up disappointed in yourself and others." (When Chocolate Isn't Enough, Michelle Medlock Adams, p. 107)
I've read Michelle Medlock Adam's book, When Chocolate Isn't Enough, and while she looks pretty perfect, her book reveals the truth.
The truth can be painful, and it can be hilarious.
I cried with her as she shared the pain of her daughter's anorexia and losing her mom to cancer.
I related to her as she felt panicked while climbing a tall tree to rescue her stuck daughter.
And I laughed out loud when she shared her nightmare moment in Wal-Mart.
Through every tear, fear and laughter, imperfect Michelle has learned to trust in the perfection of our God to do in her what she could never do or be on her own.
"There are some days when I might earn that 'Blue Ribbon of Excellence' award for being a good mom, but there are a lot of other days when I wouldn't even qualify for an honorable mention. How about you? 

That's why I like the Christian definition of perfection a lot better — "loving God with all our heart, mind, soul and strength."

(excerpt from When Chocolate Isn't Enough)
It's one of God's crazy truths that when we love God more than our kids, we're actually loving our kids the best we can.
Michelle has done such a great job helping us to see that. 
I could've asked Michelle many more questions about her life as a mom, but time was running out.
Here is the final installment of my interview with Michelle:
Jean: Just imagine that you've been named Best Mother of All Time. There's only room for one quality about your mothering skills on the trophy.

What do you hope to find written on your Mom Trophy?

Michelle: My girls were raised to know the Lord. They have a relationship with God. That's the most important.

But as far as a mothering skill, I'd want them to say that I was an encourager. That I was in their corner.

Kids often feel like no one has their back.

Right or wrong, I'm always in my girls' corner cheering them on.

Sometimes I may have to say, "This wasn't a great decision you made, but I see the greatness in you, and I'm cheering you on."

If you get that right, everything else falls into place.

Growing up, I never felt there wasn't a part in a play that I couldn't get or an activity I couldn't accomplish.

Mom always told me I was worthy. She always said, "Of course you can do this. You've got this!"

I've always wanted my kids to know that, too.

No one else has the place we have to speak into their hearts. We must use that voice wisely.

Jean: That's excellent advice. It's so important for our kids to know we believe in them. 

Now I have one more question for you. In your book, you share that you're a big fan of Doris Day's movies, and of course we know you love chocolate. But I'm sure we all want to know this: 

You're on a deserted island and can only take one Doris Day movie and one chocolate indulgence with you. What do you take?

Michelle: Oh, that's easy! The Doris Day movie I'd take is "Pillow Talk." I have it on right now. I can recite the whole movie. I like to leave it on while I'm writing.

As far as the chocolate indulgence, my favorite will probably surprise you.

You think about all the most expensive chocolates out there. I've tried them all. I spoke at a women's retreat where we had all kinds of different chocolate.

I've even eaten chocolate with real gold in it.

But of all the chocolates I could take, I'd take Snickers!

It's got peanuts for protein, caramel and chocolate — all for a great price.

It's the perfect combination of all the things I love, and its economical!

Jean: I love it. "Pillow Talk" and Snickers.

Thank you so much, Michelle, for giving me so much of your time to talk with you about your new book and get your insight into being a mom. It's been a blast. 

Michelle: Thank you, Jean. It's an honor.
If you've ever had the fortune of meeting Michelle, you know that she is indeed a great encourager. I'm confident that's what would be splashed across the front of her Mom Trophy.
So, did any of you expect Snickers to be her favorite?
I've seen her decked out as a gorgeous fairy princess. I didn't see Snickers coming from a fairy princess.
I'm a fan of Snickers, so don't get me wrong. I just thought the gold studded chocolate would be more her style.
I love that even in her choice of chocolate, Michelle's as real as they get. 
Now what's my favorite chocolate?
I have so many that make my mouth water — York Peppermint Patty is incredible, and an almost-frozen Milky Way is a favorite treat. And Almond Joy? Oh joy indeed!
But I discovered my favorite chocolate while I was studying in Freiburg, Germany. My fellow students and I discovered these perfect balls of delicious chocolate filled with the most scrumptious tasting, silky soft chocolate. Lindor Lindt.
My friends and I would place them on the radiator and let them melt just enough to turn the inside liquid, but not melt the whole thing. Oh my! Oh my! That's sheer chocolate heaven.
One time we fought over the last ones and in grabbing them, discovered we'd left them too long on the radiator. We ended up spraying the walls with the melted perfection.
We cried out in heartbreak for all our lost treasure. Then we wiped it off the walls and ate it.
Hey, we were college kids with no money to buy more. You do what you gotta do. 
So today's winner will not only get Michelle's incredible book, but they'll also get a goodie bag of Snickers and my personal favorite chocolate, Lindor Lindt. (NOT melted and scraped off the wall, of course.)
I hope you've enjoyed this interview with Michelle as much as I've enjoyed sharing it with you.
And I hope I've been able to capture Michelle's beautiful heart and the wonderful wisdom she's gained as God has let her be the mom to two adorable girls who've grown into beautiful, talented women.
In that sense, the apple certainly didn't fall far from the tree with either girl. 
And now it's time to share the winner of the signed copy of Michelle's book: When Chocolate Isn't Enough and the goodie bag of her favorite chocolate, Snickers, and my favorite chocolate, Lindor Lindt! 
And the winner is . . .  
a Rafflecopter giveaway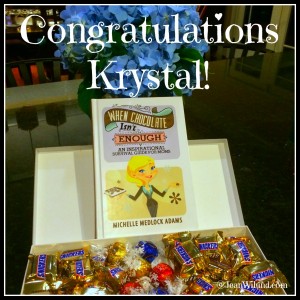 Congratulations, Krystal!!! How exciting to have a winner all the way over in Albania! 
For all of you who didn't win, I'm so sorry, but so very grateful for your taking part in this fun week.
You may not have won a free copy, but you're definitely going to want to have a copy. Click on this link to buy it today:
When Chocolate Isn't Enough: An Inspirational Survival Guide for Moms
Now I'd love to hear from you. What would you want written on your Mom Trophy? Share in the comments! 
---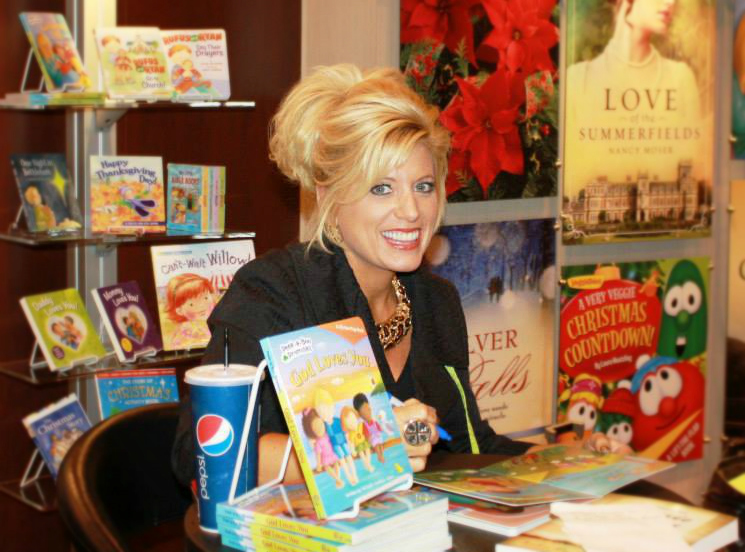 Michelle Medlock Adams is an award-winning journalist and best-selling author, earning top honors from the Associated Press, the Society of Professional Journalists and the Hoosier State Press Association. Author of over 70 books and a regular blogger for Guideposts, Michelle has written more than 1,000 articles for newspapers and magazines since graduating with a journalism degree from Indiana University.
Michelle is married to her high school sweetheart, Jeff, and they have two college-aged daughters, Abby and Allyson, as well as a miniature dachshund and four cats. When not writing or teaching writing, Michelle enjoys leading fitness classes at Priority Fitness, and cheering on the Indiana University Basketball team, the Chicago Cubbies, and the LA Kings. www.michellemedlockadams.com.  Connect with Michelle also on Facebook, Twitter and Instagram.
---
Click to Tweet: