Understanding Makes a Difference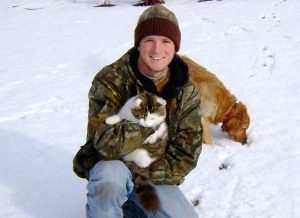 Our cat, Abi, loves our dog, Justice.
Justice fears Abi.
It probably stems from Justice's first night in our home. Our previous cat, Noir, jumped on his head and attempted to shred his face.
Noir didn't understand Justice would never hurt her. Now Justice can't understand Abi won't hurt him.
So, for the last seven years, Justice squirms away in fear whenever Abi rubs against his legs.
What we know and understand makes a difference.
In Part 1, we looked at what it means that God is All-Knowing. Today, we'll consider how understanding that makes a difference in our lives today. 
---
Understanding God is All-Knowing:
1. Gives Us Perfect Peace in a Fear-Inducing World
Like Noir, this world will shred our face at times. In fact, it already has. But we have nothing to fear with God on our side. He has all the inside information.
The One in charge knows every detail of all that's going on around the world. And His All-Knowing is combined with His All-Loving, All-Power, and All-Wisdom. 
He will give us light to see and understand all we need in His perfect timing. 
Our job is to walk in the light He's already given us, trusting Him for more as we pray and obey. 
2. Removes Our Need to Defend Ourselves
We live in a world that's easily offended. Tolerance no longer means "to disagree without being disagreeable." Our culture is ready to fight at the smallest slight. 
God is our defender. "Commit your way to the LORD, Trust also in Him, and He will do it" (Psalm 37:5)
Rather than putting up fists to fight, kneel down in prayer. Then stand and walk in a manner that reflects the Truth of who Christ is — our All-Knowing defender. 
3. Removes our Need to Hide from God
Before we were ever born, God knew everything we'd ever do or say.
Everything you'd say and do. And He still chose to create you. 
We never have to hide in shame from God. He knows it all and loves you.  
Choose to believe Him and trust in Him rather than run and hide. He'll give you the power to turn from every hurtful way. His grace is abounding. But it must be received. 
4. Gives us Courage to Face Tomorrow
God knows what we can handle. 
For He Himself knows our frame; He is mindful that we are but dust.
~ Psalm 103:14 NASB
My friend's child learned this verse in Sunday School when she was very young. The child then turned around and taught her mom saying, "God knows that we are butt dust."
Well, I guess that's a different way of looking at who we truly are!
I've heard it said many times that God will never put anything on us we can't handle, to which I say, "Wrong!"
God will gladly put us into situations beyond our ability to handle, but never beyond His. He knows we need to reach the end of ourselves before we'll look to Him and trust in Him.
Whenever the fire of your situation feels too hot, remember Jesus is with you just as He was with Shadrach, Meshach, and Abednego (Daniel 3). He'll never leave you. 
5. Gives Us Strength in Our Oops Moments
We all make mistakes, but God never does. He never says Oops! Not even when He lets us make a mistake.
Or when He lets our child make a mistake. That huge mistake. 
Don't worry or fret. Ask forgiveness if your "mistake" was actually a bad choice, but then walk in the freedom of God's forgiveness and omniscience.
And if it's your child, remember, God knows what they did, and He's more than able to care for them — or deal with them. He loves them even more than you do.
God never has to say Oops! #GodisAllKnowing #CharacterofGod Click To Tweet
God's Word on His Omniscience
---
Who has directed the Spirit of the Lord, Or as His counselor has informed Him? With whom did He consult and who gave Him understanding? And who taught Him in the path of justice and taught Him knowledge And informed Him of the way of understanding?"
(Isaiah 40:13-14 NASB).
♦
"Great is our Lord and abundant in strength; His understanding is infinite."
(Psalm 147:5 NASB).
♦
"…God is greater than our heart and knows all things."
(I John 3:20 NASB).
♦
"Even before there is a word on my tongue, Behold, O LORD, You know it all."
(Psalm 139:4 NASB).
♦
"Would not God find this out? For He knows the secrets of the heart"
(Psalm 44:21 NASB).
♦ 
"As for you, my son Solomon, know the God of your father, and serve Him with a whole heart and a willing mind; for the LORD searches all hearts, and understands every intent of the thoughts. If you seek Him, He will let you find Him; but if you forsake Him, He will reject you forever"
(I Chronicles 28:9 NASB).
---
I've only shared a few ways that understanding God is All-knowing makes a difference in our lives today. I'd love to hear your thoughts. Know any other ways? Share in the comments. 
Before you were born, God knew everything you'd ever do or say & still chose to create you. #GodLovesYou Click To Tweet