Understanding The Incomprehensible God — What?!

What?!
---
There's much I don't understand. You're shocked, right?
For instance, I'll never understand how I can sit on my porch in South Carolina and talk into a small handheld box filled with pieces of metal that transmit a living image of me to a satellite in space which shoots that image to my daughter's phone in a taro field in Hawaii that sends her image back to the satellite and into my phone so we can casually, instantly, seamlessly chat for an hour. 
What?!
I don't understand any of that — except the part where she's sitting in a taro field in Hawaii and I'm on my back porch in South Carolina. And I barely understand that. Especially the taro field part.
Oh, and the talking part. I get that, too, sort of. Ok, not really. How do our brains tell our vocal chords what vibrations to make? And how do our bodies turn them into words other people understand?
If I can't understand all the wonders of the world God created, how do I begin to understand Him?
I love that the more I come to know #God the more I understand He can't be fully understood. #KnowingGod Click To Tweet
God is Incomprehensible
---
Incomprehensible — the inability to be understood. 
We, women, get accused of being incomprehensible all the time, but we understand each other just fine. God, on the other hand, is beyond our ability to understand fully.
We can understand much of God, but not all of Him.
If we combined all the brilliant minds in history into one super brain, it wouldn't be enough to comprehend all God is. 
---
For who among men knows the thoughts of a man except the spirit of the man which is in him? Even so the thoughts of God no one knows except the Spirit of God.
~ I Corinthians 2:11
---
God is unique unto Himself. No one and nothing is like Him.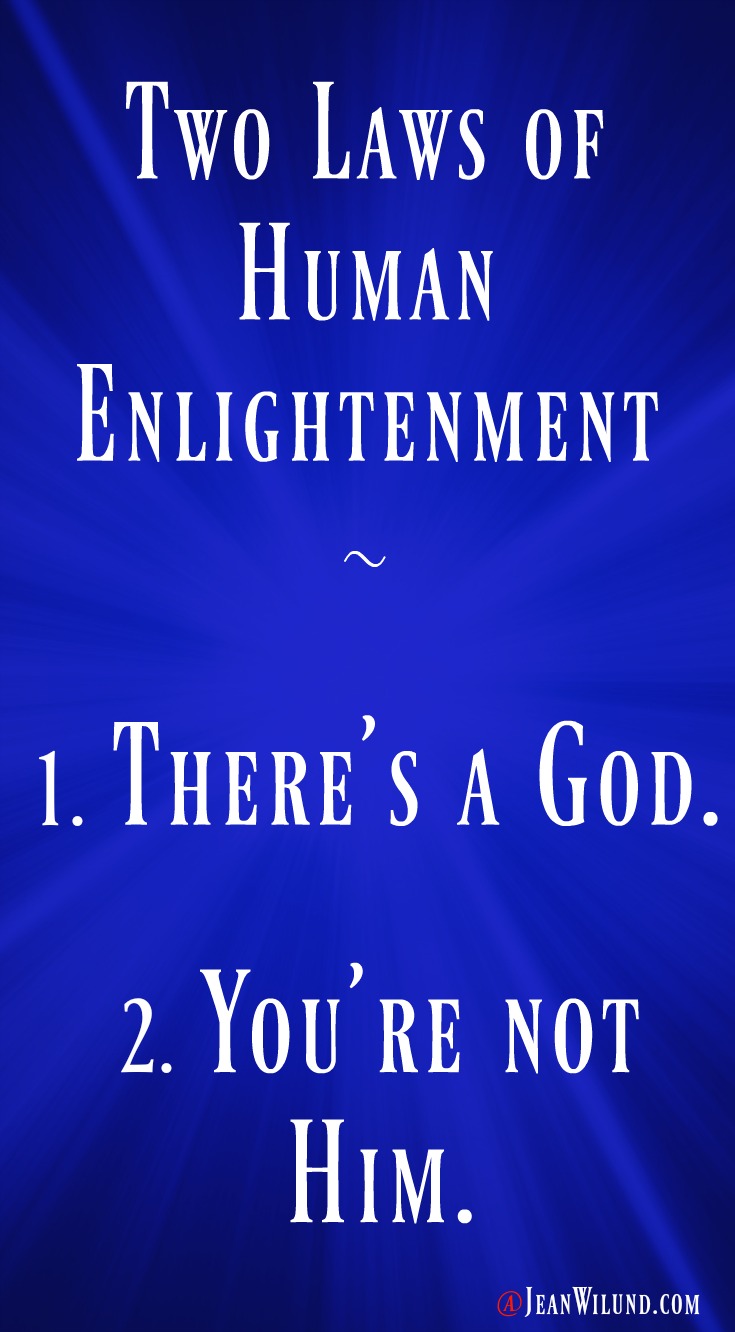 Consider the Trinity. Who can fully understand a God who is Father, Son, and Holy Spirit — 3 Who's in 1 What? God said, "Let us make man in our image." 
When God said, "Let us make man in our image" He was referring to the Trinity.  
Yes, He made us in His image, but He didn't make us exactly like Him. He didn't create man and become "the Cube." He remains the Trinity. 
We're not exactly like God, and we're not God — no matter what some of us like to think. 
When we try to explain what He's like, we have to grab images we can understand to explain the God we never can. 
But beware. Many try to reduce God to an image they not only can understand but also one they think they can control. 
Words like "appearance" and "like" pop up whenever we try to explain God. Even in the Bible.
God is like the sun in all its glory, except more. Much more.
---
As the appearance of the rainbow in the clouds on a rainy day, so was the appearance of the surrounding radiance. Such was the appearance of the likeness of the glory of the Lord. And when I saw it, I fell on my face and heard a voice speaking.
~ Ezekiel 1:28
---
If We Can't Comprehend God, Should We Even Try?
---
Absolutely, we should try.
The secret things belong to the Lord our God, but the things that are revealed belong to us and to our children forever.
~Deuteronomy 29:29
God only keeps some things secret. 
We should seek to understand God as much as He'll reveal Himself to us and then accept the rest as "the secret things" that "belong to the Lord."
God wants us to know Him. He even gave us a thick Book to teach us about Him.  
Understanding God is Incomprehensible Makes a Difference in Our Lives Today
---
Like all of God's character traits, understanding that He can't be understood makes a difference in our lives today. For some, it's a stumbling block. For others, it's a path to peace.
Stumbling Block or Springboard?
Some people refuse to believe what they can't understand. That was my husband at first.
When friends first introduced Larry to Christ, he battled trusting in Him because too much of the Bible seemed incomprehensible. He refused to trust what he couldn't understand. For years.
Then one of those friends, Karen, shared a verse with him:
Trust in the Lord with all your heart and do not lean on your own understanding. In all your ways acknowledge Him, and He will make your paths straight.
~ Proverbs 3:5-6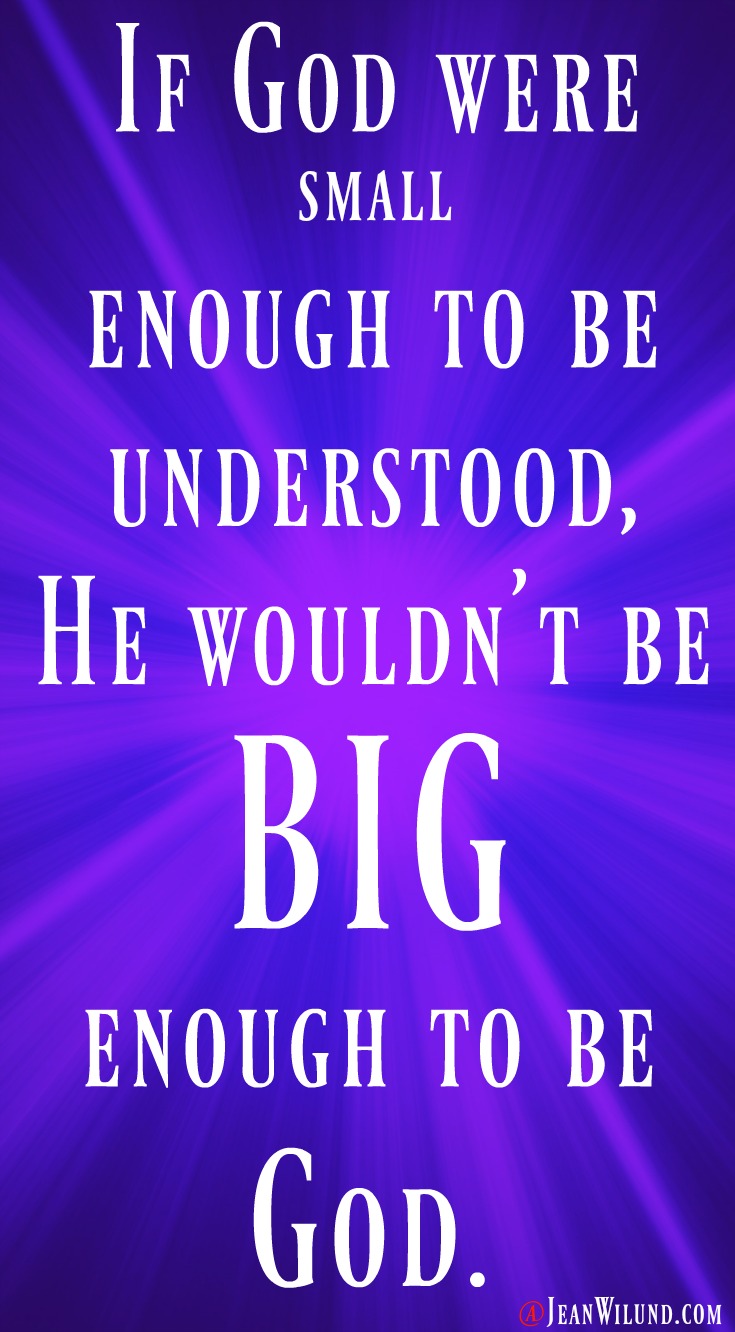 This verse helped Larry realize that his finite ability to understand an infinite God would always be limited.
He recognized that if God were small enough to be understood, He wouldn't be big enough to be God.
After thinking on Proverbs 3:5-6, Larry knelt down on his knees in his bedroom and placed his faith in Jesus Christ.
He'd found a God he couldn't comprehend but could fully trust.
Don't let God's incomprehensibility be a stumbling block. Let it be a springboard to a life of faith.
When we rest in what we know and don't fight over what we don't, we can experience peace in normal everyday life as well as in the midst of heart-wrenching trials.
Those Who Don't Stumble Over What They Can't Understand Enjoy What They Can. #TrustGod #GodIsIncomprehensible Click To Tweet
I don't have to understand why God wants my oldest daughter to live 4,766 miles away right now. I only have to trust Him. 
He knows my heart and how I miss her while she's in Hawaii. And He cares.
He's with her always. He can reach her no matter where she goes.
And He knows how all this fits into His bigger picture for our good and His glory — even if I don't.
If #God were small enough to be understood, He wouldn't be big enough to be God. #GodIsIncomprehensible Click To Tweet
I don't have to understand why God has allowed my friend's child to suffer unrelieved pain for months. I only have to trust Him.
He knows what's wrong and how to heal him.
He knows the desperate desire my friend feels every moment to see her son enjoy life again. And He cares.
And He knows how all this fits into His bigger picture for our good and His glory — even if they don't.
God gives us what we need to know when we need to know it.
Let's not confuse wants and needs. 
We want all the answers, but we don't need them.
We need to trust in the One who understands all. 
God's Word on His Incomprehensibleness
---
All things have been handed over to Me by My Father; and no one knows the Son except the Father; nor does anyone know the Father except the Son, and anyone to whom the Son wills to reveal Him.
~ Matthew 11:27 NASB
♦
Oh, the depth of the riches both of the wisdom and knowledge of God! How unsearchable are His judgments and unfathomable His ways!
~ Romans 11:33 NASB
♦
Great is the LORD, and highly to be praised, And His greatness is unsearchable.
~ Psalm 145:3 NASB
♦
"Can you discover the depths of God?
Can you [by searching] discover the limits of the Almighty [ascend to His heights, extend to His widths, and comprehend His infinite perfection]?
"His wisdom is as high as the heights of heaven. What can you do?
It is deeper than Sheol (the nether world, the place of the dead). What can you know?
"It is longer in measure [and scope] than the earth,
And broader than the sea.
~ Job 11:7-9 AMP
♦
"For as the heavens are higher than the earth,
So are My ways higher than your ways
And My thoughts than your thoughts.
~ Isaiah 55:9 NASB
---
God may be incomprehensible, but He's not unapproachable.
Seek God with all your heart. When you come to know Him as He reveals Himself in each of His character traits, He'll make your life more than you could've hoped it to be.
Only God knows what that will look like, but you can trust Him, even if you can't comprehend Him. 
---
Listen to the following song, "Who" by the Newsboys. It's one of their crazy, fun songs that has a powerful message about this God we can't contain or comprehend.
Understanding The Incomprehensible God -- What?! #KnowingGod Click To Tweet