Does The Dog Rank Higher Than You? A Book Giveaway & Interview with Michelle Medlock Adams ~ Part 3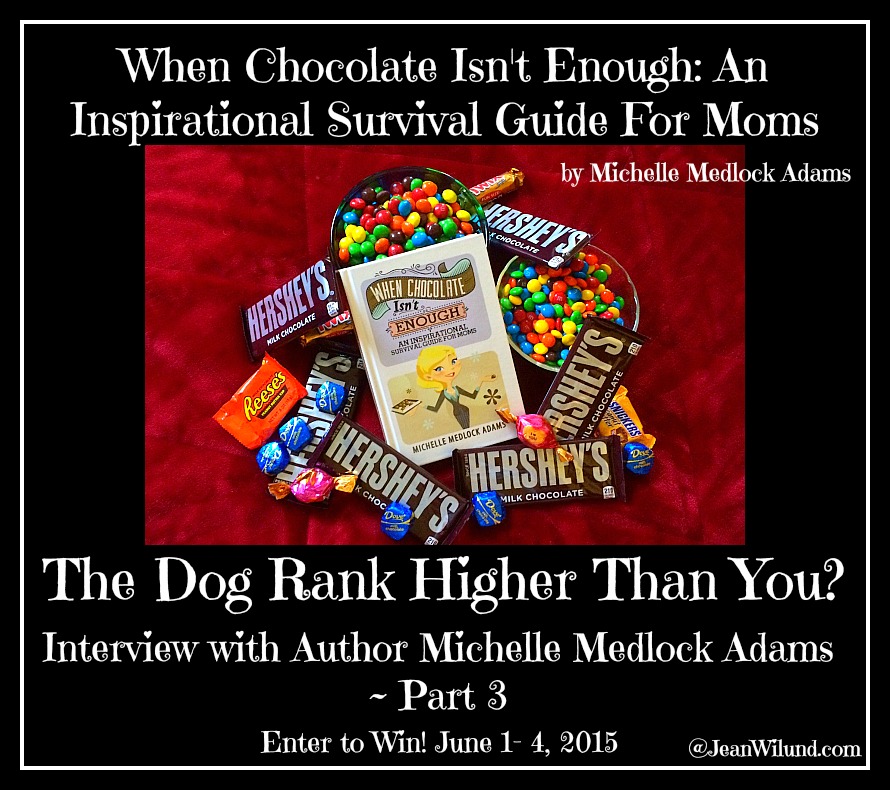 It happens in the life of every mom.
There comes a time when even the dog ranks higher in your kids' affection than you. 
It's even worse when you don't have a dog, and your neighbor's dog ranks higher than you. 
I've been interviewing Michelle Medlock Adams this week, the author of When Chocolate Isn't Enough: An Inspirational Survival Guide for Moms.
Enjoy this sneak peak at just such a hilarious moment in Michelle's life, ripped from her book:
It's a Dog-Eat-Dog World



"Allyson, let's go honey!" I called to my then 4-year-old daughter.

As we rounded the corner, I noticed a sign on the bulletin board: "Dress like the family member you most admire this Friday."

"That's tomorrow!" I mumbled to myself, already planning to turn Allyson into a mini me.

She could carry a briefcase, I thought, And, I could pull her hair into a professional-looking clip.

As I loaded Allyson into our SUV, I said, "Ally, I read where you are supposed to dress up tomorrow like someone in your family that you admire. Are you going to do it?" 

"Yep," she said.

"So, who are you going to dress up like?" I smugly asked.

Allyson looked up at me with her big blue eyes and sweetly said, "Maddie."

"MADDIE!" I shrieked. "But you can't dress up like our dog!"

. . .

(I told you this is just a sneak peak. Read the full story in: When Chocolate Isn't Enough: An Inspirational Survival Guide for Moms. pp. 87-90.)

I've tried to be the kind of mom that would always rank higher than a dog, but it's a losing battle. 
Looking through old photos with my girls on Mother's Day this year, Brittany stared at one photo, horror written on her face. 
"Mom! I blame you for my hair cut!"
My other daughter Carolyn chimed in, "Yeah! Me, too! Those were the worst hair cuts. We looked like boys!"
"Whoa! Wait a minute," I said. "That was all you two. You both wanted your hair cut just like your cousin Katelyn."
Brittany defended herself. "I can't be blamed. I was too young to know she didn't have good style back then. You should have forbidden us."  
I ended the attack by reminding them that it was Mother's Day. "Can you two just wait one more day to tell me how bad of a mother I am?"
We all had a good laugh together.
And I certainly couldn't be too hard on them. I blame my mom for my bad hair cuts, too. I blame my friend Bev for my bad hair-color jobs, but that's another story.
Oh, and by the way, Katelyn's haircut was quite stylish, as was the girls'. No one looks stylish in old photos, except maybe Marilyn Monroe and Jacqueline Kennedy Onassis.
As I read Michelle's story, "It's a Dog-Eat-Dog World," I immediately remembered the haircut conversation.
If I'd forbidden the girls from getting their hair cut short, my dog would've ranked higher than me back then.  
But because I didn't forbid them, my dog ranks higher than me now. It's a losing battle.
Michelle has great advice for handling feelings of canine inferiority:
Jean: One of my favorite stories is when you got beat out as "the most admired family member" by your dog.

I think every mother can relate to the feeling one time or another that even the dog is more favored than them.

What have you found to be the best way to combat those feelings?

Michelle: As a mom, we give everything.

God's made us that way. He's made us to be almost sacrificial — to be there for our kids.

Words of affirmation[†] is my love language. It's part of being a creative person.

That can't be your main love language as a parent, or you'll go crazy.

And you can't live in a hurt place.

Learn to enjoy the moments you get.

And know that, in the in-between times, you don't have to have them.

The Bible promises us in Proverbs 31 that one day our children will rise up and call us blessed.

Her children rise up and call her blessed;
her husband also, and he praises her:
(Proverbs 31:28 ESV)

It may take years between today and that day, but one day they will.

As a mom, we have a big bull's-eye on our head, so cling to that verse.

Eventually you'll get that text from your kid that says, "I love you so much!"

Save it. Hang on to those, because next week you may get the opposite.

You're their best friend, but you're also their worst enemy. The love really is in their heart, though.

We're the same way with God.

He does everything for us, sacrificed everything for us, and yet we're too busy to spend time with Him. We've got to spend time with Him.

To be continued . . .
I don't know about y'all, but Michelle's statement: "And know that, in the in-between times, you don't have to have them" really hit me. 
She's so right.
We think we need to feel appreciated all the time.
We don't.
Of course we want to, but we don't need to.
As Michelle stressed in our conversation, every ounce of our value comes, not from being an appreciated mom, but from who we are in Christ.
If you've been a Christian long at all, you've most likely already heard that truth. But, have you really stopped to understand and embrace what it means?
It's like a billionaire who's treated as though he were an average person.
It doesn't change his financial condition, so why should he care if someone doesn't treat him like he has a billion dollars in the bank?
The only reason it would bother him is because of his pride. That's a terrible reason. 
So what does it matter if the dog ranks higher in our kids' eyes today? It doesn't change our true value.
Let's not kick the dog. Instead, let's be glad he's getting some love at all, because when it comes down to it, he's still just a dog, and we'll always be their beloved mom. 
A note of caution: If our dog shows our kids more love than we do, we might want to change some things. Just sayin'. And I don't mean to get rid of the dog.
---
ENTER TO WIN
If you haven't entered to win Michelle's book and some great chocolate yet, then you're not going to win it. It's Statistics 101. You have to enter to win.
So, either log in to enter below, or you can just leave a comment in the comment section.
If you can't figure out how to do it, you're child can. Although, they'll probably demand payment in chocolate, if you win. 
Let us hear from you. Have you had any dog-eat-dog moments you can share?  
Every comment you leave is another entry towards winning this great prize.  
a Rafflecopter giveaway

---
Michelle Medlock Adams is an award-winning journalist and best-selling author, earning top honors from the Associated Press, the Society of Professional Journalists and the Hoosier State Press Association. Author of over 70 books and a regular blogger for Guideposts, Michelle has written more than 1,000 articles for newspapers and magazines since graduating with a journalism degree from Indiana University.
Michelle is married to her high school sweetheart, Jeff, and they have two college-aged daughters, Abby and Allyson, as well as a miniature dachshund and four cats. When not writing or teaching writing, Michelle enjoys leading fitness classes at Priority Fitness, and cheering on the Indiana University Basketball team, the Chicago Cubbies, and the LA Kings. www.michellemedlockadams.com.  Connect with Michelle also on Facebook, Twitter and Instagram.
---
[†] See Dr. Gary Smalley's Five Love Languages for more information.
---
Click to Tweet: