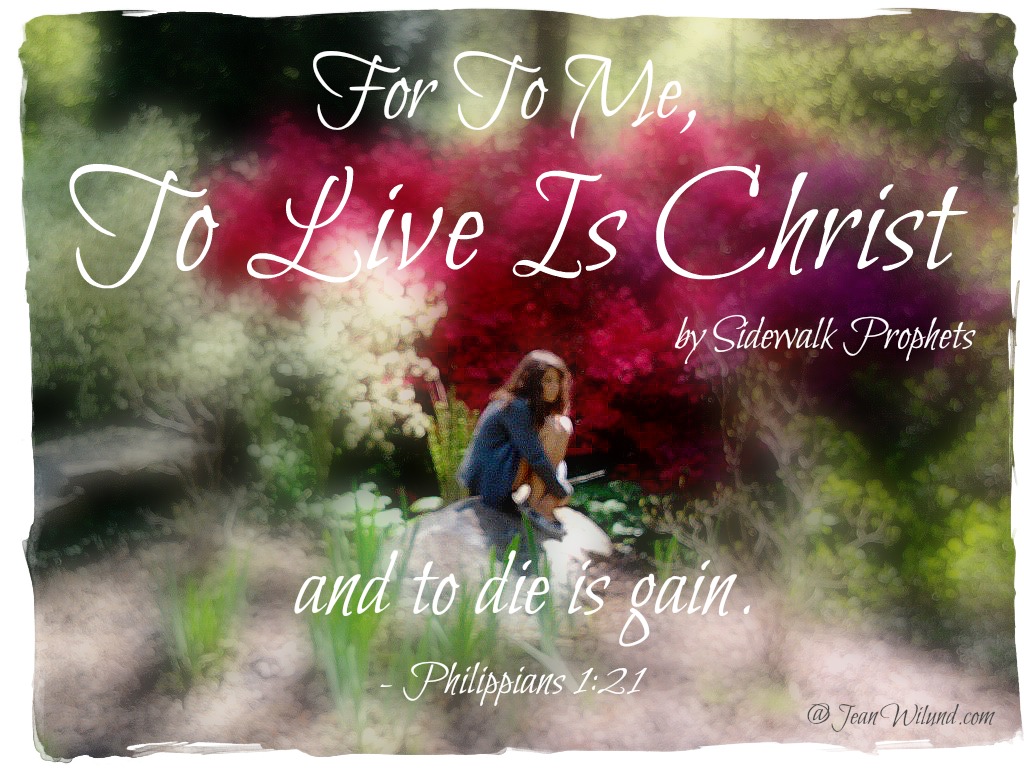 What does it mean "to live is Christ?" Does it mean we have to not care whether we live or die?
"For to me, to live is Christ, to die is gain." 
~ Philippians 1:21
In the movie First Knight about the legend of King Arthur, Lancelot wins a sword fight in impressive fashion. (Watch the movie clip at the end of the post.)
His opponent, Mark, wants to know how he learned to fight with such skill:
Mark:         How did you do that? How did he do that? Was that a trick?

Lancelot:   No. No trick. It's a way of fighting. 

Mark:         Could I do it? Tell me. I can learn.

Lancelot:    You have to study your opponent, how he moves, so you know he's gonna do it before he does it.

Mark:           I can do that.

Lancelot:     You have to know that one moment in every fight when you win or lose. And you have to know how to wait for it.

Mark:            I can do that.

Lancelot:      And you have to not care whether you live or die.

Oh, wow. That last one's a tough one:
And you have to not care whether you live or die.
I think I like the apostle Paul's mindset better.
For to me, to live is Christ, to die is gain.
Paul doesn't tell us not to care if we live or die. He tells us to be excited about both.
No matter whether Paul lived or died, he was good.
Lancelot resigned himself to either fate.
If he lives, great. If he dies, oh well.
Paul embraced both opportunities.
If he lives, great. If he dies, awesome.
Paul lived for something that overpowered his fears and despair and drove him to truly live.
If Paul gets to live, he gets to live for Christ. He gets to love what Christ loves and share the powerful truth of Christ with every breath, whether with words or deeds.
And if he dies, he gets to be with Christ face-to-face. Awesome.
Paul couldn't lose.
This didn't mean he couldn't suffer.
Paul could've been the national champion of suffering. Here are just a few of his "struggles":
Whipped five times with 39 lashes.

Beaten with rods three times.

Stoned and left for dead.

Shipwrecked four times.

Floated in the deep for a day and a half.

Bitten by a viper.

Survived an assassination plot.

Had a "thorn in his side" that God wouldn't take away.

Arrested and imprisoned several times and for years at a time for preaching Christ.

Endured cold and without clothes.

Attacked by an angry mob.

Betrayed by his own people.
(Acts 9:23-29; Acts 13:50; Acts 14:5,19; Acts 15:11; Acts 16:23, 39; Acts 17:5-7, 10, 18, 23-14; Acts 22:24-29; Acts 23:1-8; Acts 23:33-27:2; Acts 27:14-28:1, 3-5, 13-15; 2 Corinthians 1:8; 2 Corinthians 6:3-20; 2 Corinthians 11:23-28; 2 Corinthians 12:7b-10; 2 Timothy 4:6-8)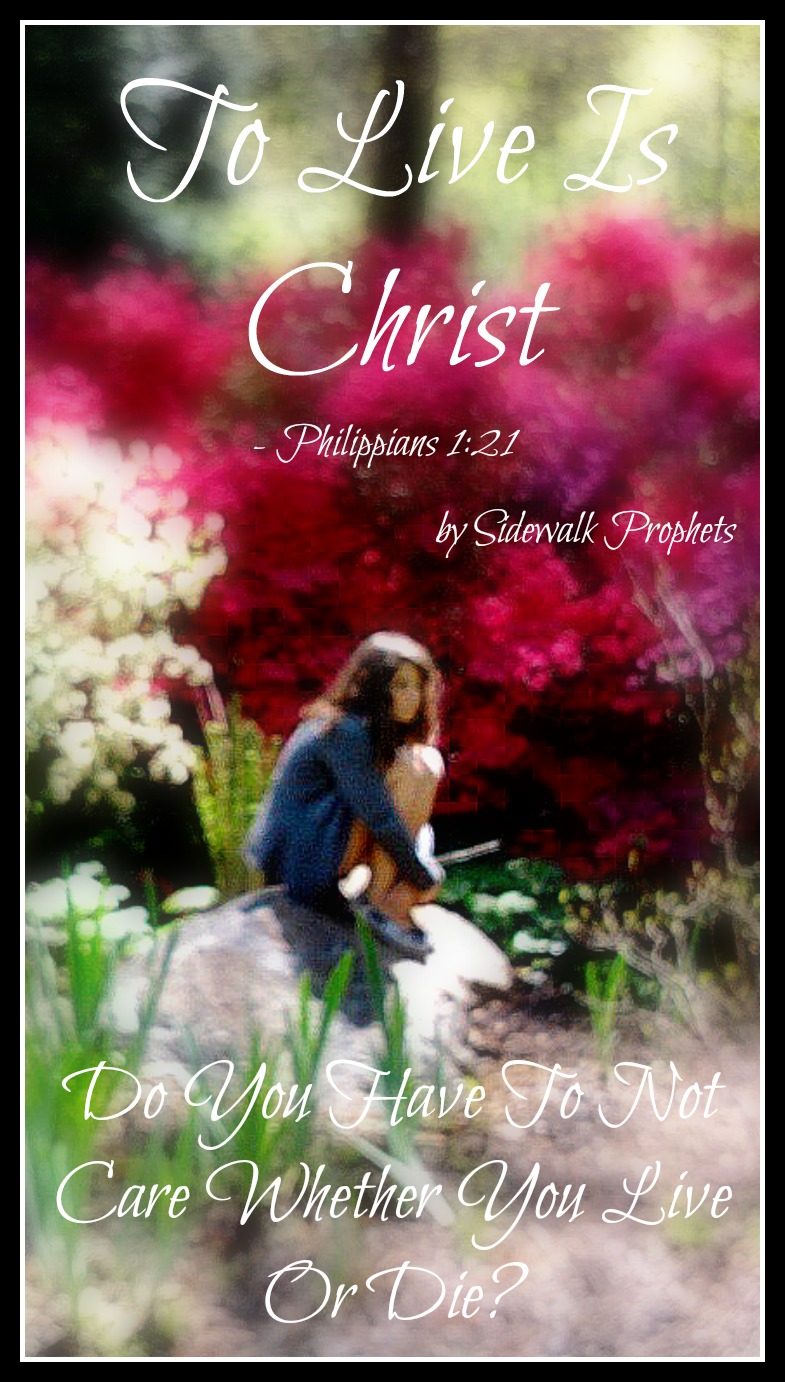 He could either glorify Christ by living large or when he met Him face-to-face. Either plan worked for him. 
This wasn't some "glass is half-full" positive mental attitude.
This was "the glass is overflowing" God-confidence.
It allowed him to endure things few of us will ever have to face and still enjoy peace in his soul, even when there was no peace in his circumstances.
At times Paul felt discouraged. Beat down. He even despaired of his life at times. (2 Corinthians 1:8)
But when life crushed him, he got back up to live another day.
To really live.
Not just exist.
Not just survive.
But live!
For most of us, we live without the fears Paul faced.
Sure, suffering will come. None escape it.
But whether we live or die, with Christ, we're good. 
We're free to live with abandon and enjoy life.
Sidewalk Prophets' song "To Live Is Christ" is based on the apostle Paul's infamous quote that brilliantly outshines the mythical Lancelot's.
"For to me, to live is Christ, to die is gain." 
~ Philippians 1:21
This is what David Frey, one of the founding members of Sidewalk Prophets had to say about their song "To Live is Christ":
"This verse lays it all on the line for us as a band. What does it mean to truly live?

"Some hold great stock in wealth, or status or other earthly things, but for us…we long to live a life chasing the heart of God.

"Each day is a continual battle to lay our lives down, and lift up Christ on high.

"This song has become our anthem."

~ David Frey, Sidewalk Prophets
Enjoy Sidewalk Prophet's music video "To Live is Christ":