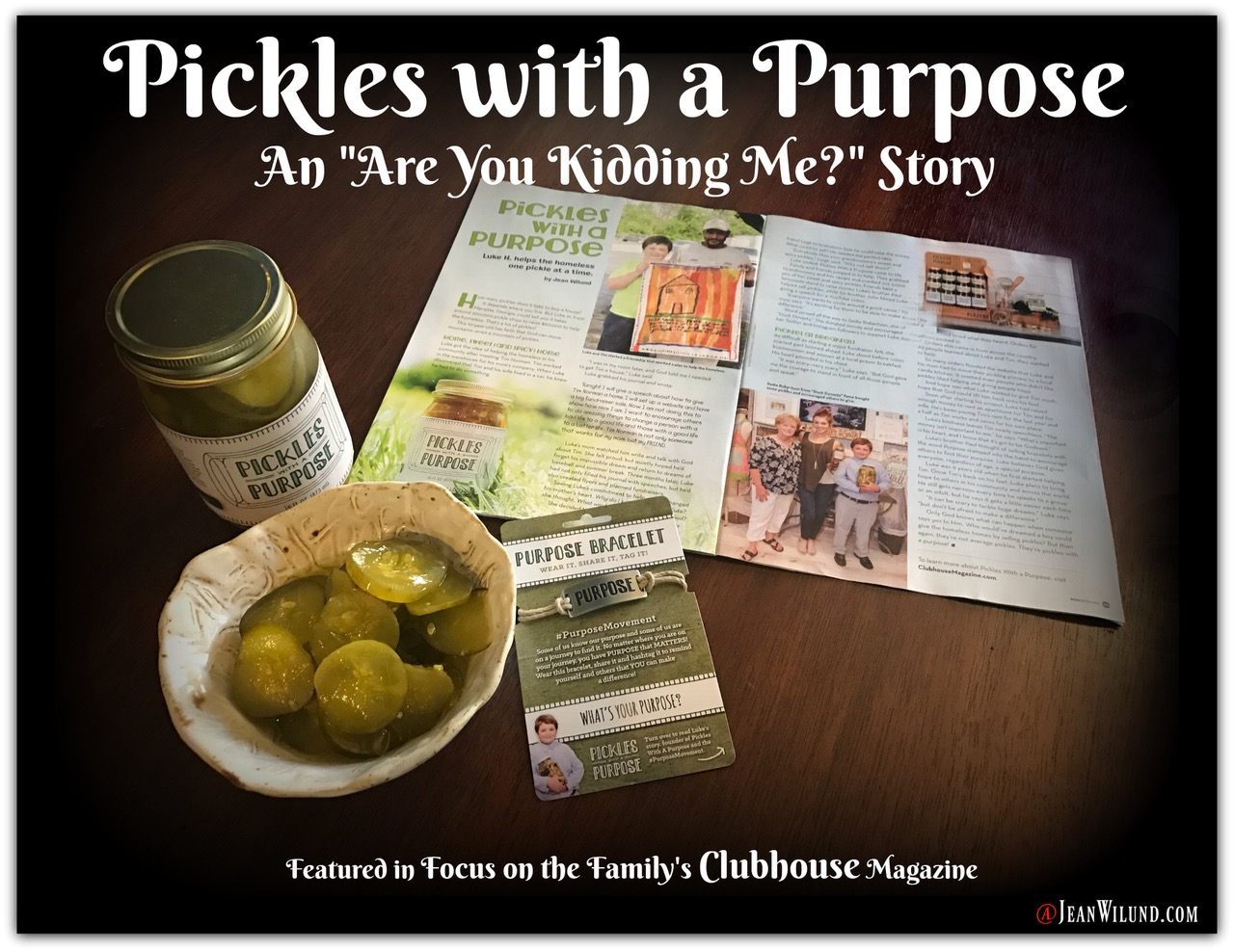 Pickles with a Purpose. Are You Kidding Me?
I met the most amazing kid, and Focus on the Family let me share his "Are you kidding me?" story.
It started for me when I noticed several jars of pickles sitting on my sister Melissa's kitchen counter. The label said, "Pickles with a Purpose." Bahaha! How can you not love that name, right?
Then Melissa began to share the story of ten-year-old Luke Holm and his purposeful pickles.
She told me he'd befriended Tim, a man who happened to be homeless, and that wasn't ok with Luke.
The part where his new friend lived in his car with his wife wasn't ok with Luke.
Luke felt God wanted him to buy Tim a house. By selling pickles. And it's working.
Which is when I uttered the phrase, "Are you kidding me?" 
Featured in Clubhouse Magazine
Focus on the Family's Clubhouse magazine features ordinary kids doing extraordinary things. Can we all agree that Luke more than qualifies?
I introduced Luke and his Pickles with a Purpose to the magazine, and they bit. They wanted to tell his story to the world. I got to write it for Clubhouse and share it with you here!
I hope Luke's story will inspire you to make a difference right where you are — no matter your age.
Start today by sharing Luke's story with everyone you know.
Somewhere out there is another Luke. The improbable story of Pickles with a Purpose may be the inspiration he or she needs to believe and get started.
But first, enjoy this crazy and inspiring story. Read Luke's own words and hear his amazing heart:
[Read more…]