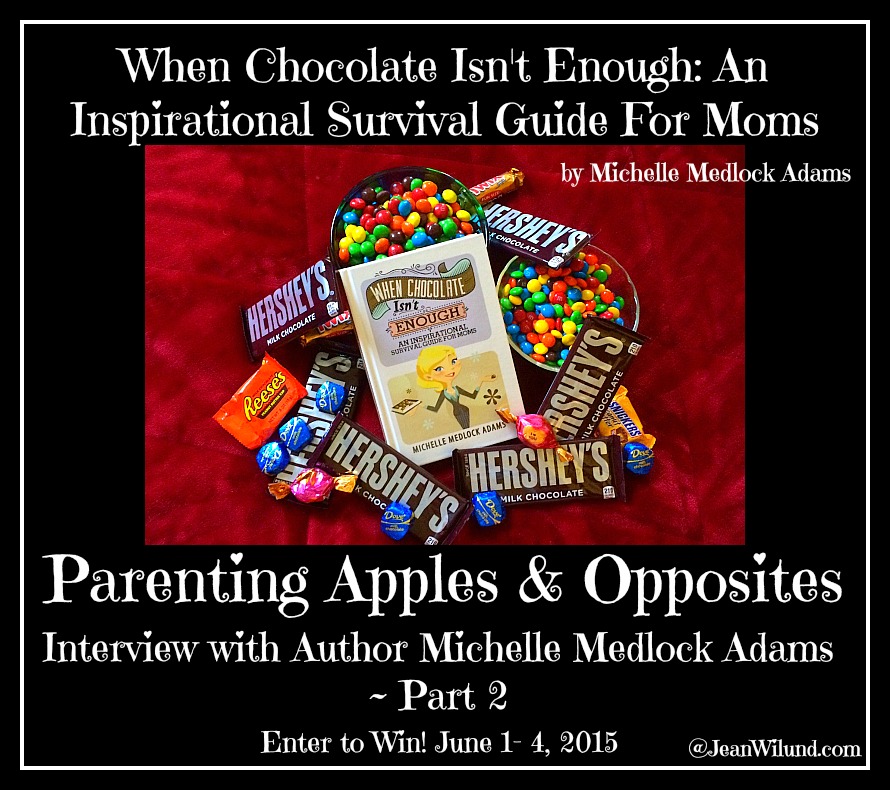 If you have more than one child, there's a good chance you're parenting an Apple and an Opposite.
I'm parenting an Apple, an Opposite, and a Mixed Pie.
In Part 2 of my interview with Michelle Medlock Adams, author of When Chocolate Isn't Enough: An Inspirational Survival Guide for Moms, we talk about Apples and Opposites. 
And if you haven't already entered to win a signed copy of her book along with some of hers and my favorite chocolate, be sure to do so at the end of the post. 
Now onto Part 2 of the interview:
Jean: You have two college-age daughters, Abby and Allyson. Would you describe them more as "The apple hasn't fallen far from the tree" or as "Opposites attract?"

Michelle: I have one of each.

Abby is her daddy made over, and Ally is just like me.

Abby thinks just like Jeff.

If you know Dr. Gary Chapman's four personality types, Jeff is a Beaver. [accurate, precise, and analytical] He's a CPA. He's organized. He wants a map. Abby is just like him. 

I'm totally opposite of Abby. I'm an Otter [an energetic motivator] and a Lion [likes to take charge, competitive]. I'm a lot to handle. 

She probably wanted to kill me as a mother. Being on time is actually being late for her. If I'm on time, it's a miracle of God.

Allyson is exactly like me. She's into fashion and product development. She's creative. I understand the way she thinks.

Jean: What advice would you give to a mom who's raising an Apple — a child who's just like her?

Michelle: Grace is your key word.

In a child just like you, you see all your flaws magnified in that child. You've got to give them grace.

Plus, you've got to praise them for the things you'd expect them to be able to do.

They don't know what they've done is great because it's commonplace to them. They assume everyone should be able to do it, too. But not everyone can do what they're doing. For some people, it's hard. Help them to see that. 

Jean: You're also parenting an Opposite, so what would you say to a mom who's raising a child who's the exact opposite of her?

Michelle: You have to know going in that they're not like you.

They don't understand you just as much as you don't understand them.

Abby doesn't understand why I can't get ready on time. She's thinking, What's wrong with you?

I have no answer. That's just the way I am.

It's the same way with them. We have to make allowances that they're not the same as us.

Our way makes no sense to them anymore than their way makes sense to us.

So what if I put black socks in with the white? 

It drives Abby crazy.

I have to go to Jeff — who's just like her — and ask him to help me understand why she's upset. Jeff is our translator. He needs to help her understand me, too.

It's important that we try hard to understand our opposite children.

Also, you have to choose your battles wisely.

Some things really aren't a big deal. Don't choose every battle, or else you'll battle all the time.

Plus, let them teach you things. If they'll let you, you can teach them things too.

You need each other.

To be continued . . .
Parenting an Apple, an Opposite, or a Mixed Pie (a little of both parents) comes with its benefits and its challenges. 
In Michelle's latest book, you'll get to experience a little of the craziness that goes on in her family, parenting an Apple and an Opposite. 
You'll get some great laughs and be encouraged. None of us get it right all the time.
We can make mistakes because God doesn't.
He's got our back, and He's got our children.
Amen!
---
ENTER TO WIN
If you haven't entered to win Michelle's book and some great chocolate yet, then you're not going to win it. Just sayin'. You have to enter to win.
So, either log in to enter below, or you can just leave a comment in the comment section below.
If you can't figure out how to do it, you're child can. Although, they'll probably demand payment in some of the chocolate if you win. 
Let us hear from you. Tell us if you're parenting an Apple, an Opposite, or a Mixed Pie. Do you have any words of wisdom to share with us? Do you have a funny story to share? 
Every comment you leave is another entry towards winning this great prize.  
a Rafflecopter giveaway

---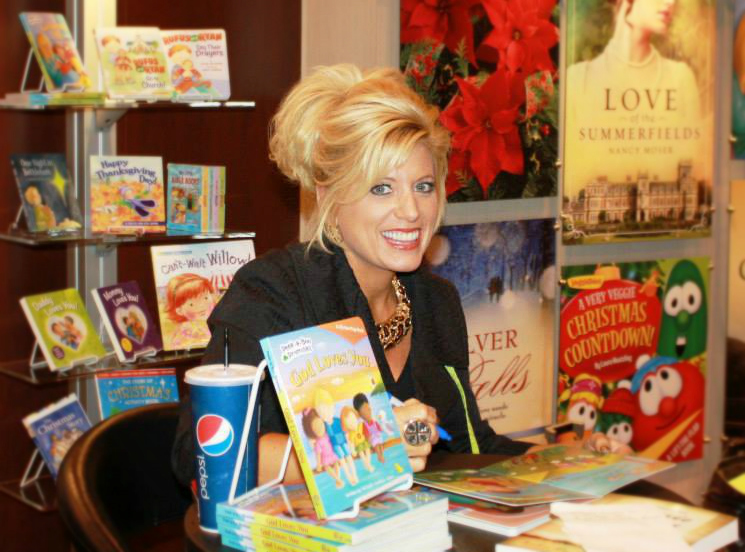 Michelle Medlock Adams is an award-winning journalist and best-selling author, earning top honors from the Associated Press, the Society of Professional Journalists and the Hoosier State Press Association. Author of over 70 books and a regular blogger for Guideposts, Michelle has written more than 1,000 articles for newspapers and magazines since graduating with a journalism degree from Indiana University.
Michelle is married to her high school sweetheart, Jeff, and they have two college-aged daughters, Abby and Allyson, as well as a miniature dachshund and four cats. When not writing or teaching writing, Michelle enjoys leading fitness classes at Priority Fitness, and cheering on the Indiana University Basketball team, the Chicago Cubbies, and the LA Kings. www.michellemedlockadams.com.  Connect with Michelle also on Facebook, Twitter and Instagram.
---
Click to Tweet: