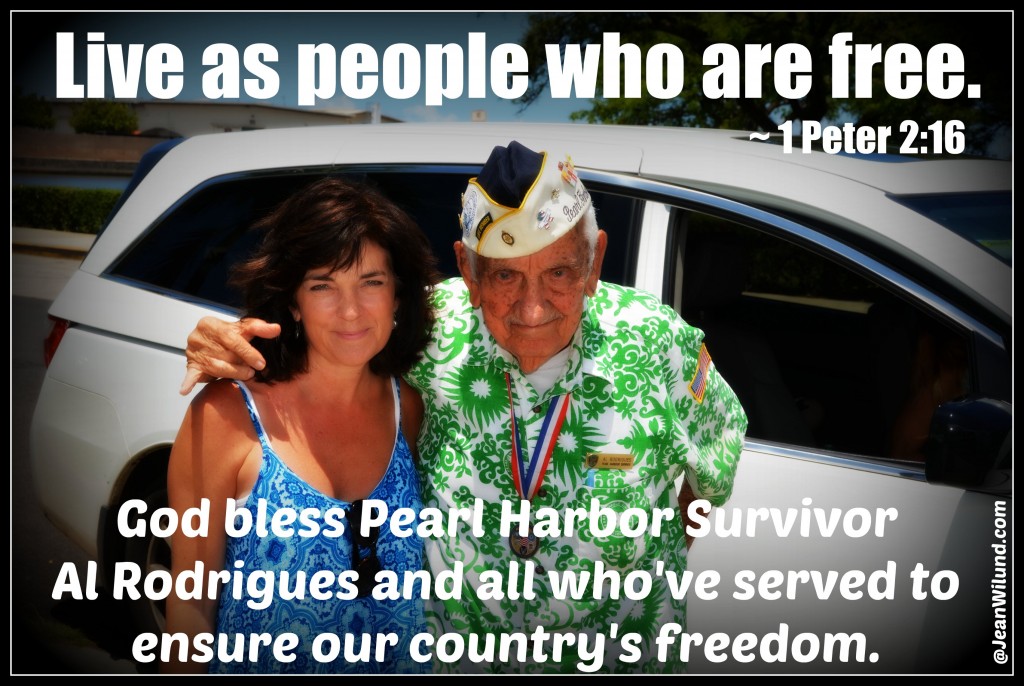 I ran too slow to catch a 95-year-old war hero.
To be fair, he had a head start.
Al Rodrigues — THE Al Rodrigues — walked out the back gate and out of our reach at the Pearl Harbor Memorial.
Al is one of the last remaining survivors of Pearl Harbor.
I just wanted a chance to tell him thanks. 
I watched a lady help Al climb into a van and drive off with him.
Then I noticed the parking lot led right past the entrance of the memorial. So Larry and I ran.
If we ran fast enough, we could at least wave to him as he drove by. 
And we did. We stood on the side walk and waved. I blew him kisses.
Next thing we knew, the van pulled over and Al climbed out of the van to speak with us.
Excited, I felt like a teenage groupie.
Al gave years of his life — nearly gave his actual life — to serve our country and ensure our freedom.  
We still live free today because Al Rodrigues and others like him held nothing back. 
We must never forget or take our freedom for granted.
Let's pray continually for our soldiers, our leaders, and our country.
Let's pray that God will turn the hearts of America back to following Christ.
Apart from Christ we can do nothing. (John 15:5)
He's the power we need to be a powerful nation and a blessing and great influence on the world.
He gave His life to buy our eternal freedom. Let's live as people who are free! (1 Peter 2:16)  
We Americans are free. We'd never want that taken away from us.
Christians are free, too. Why would live any other way than free?
Free from sin. Free from shame. Free from guilt.
Amen!
We should enjoy our freedom to the fullest! That's the biggest thanks we can give our soldiers and our Lord.
God bless the USA.
Thank you, Al Rodrigues! Thank you to all our military!