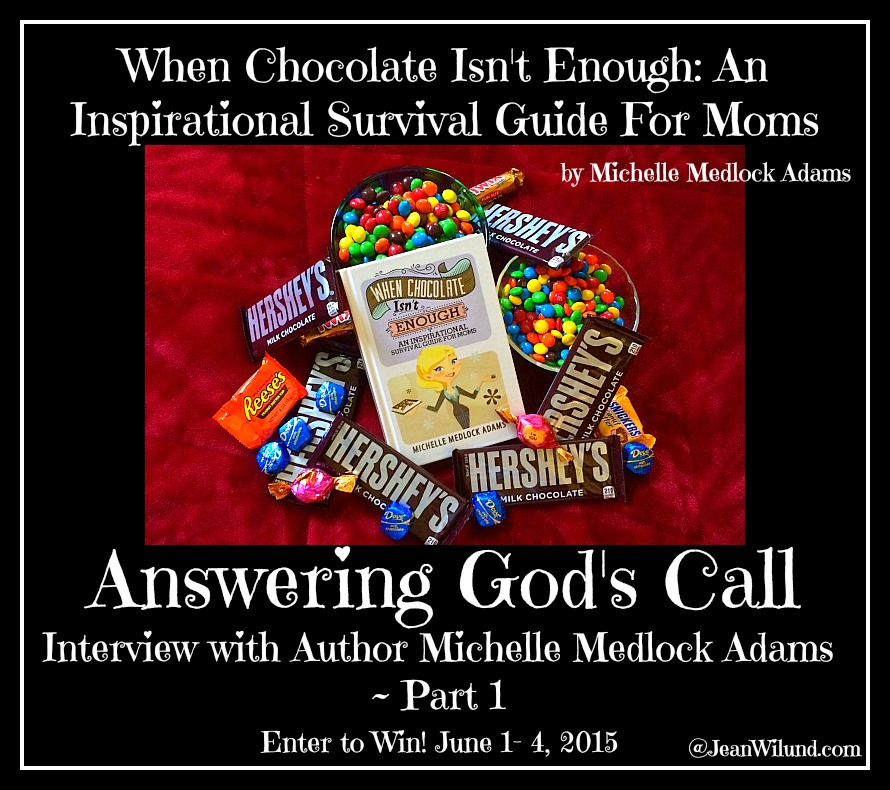 God gives each of us a call.
Sometimes that call calls for chocolate.
Being a parent is one of the greatest calls a person can receive.
But a call that big is gonna require more than even chocolate.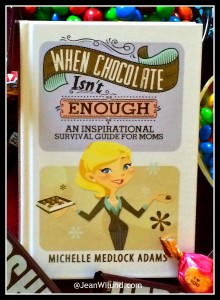 That's why Michelle Medlock Adams wrote her latest book:   
When Chocolate Isn't Enough: An Inspirational Survival Guide For Moms
Go ahead and read it, too, dads. It's just that good.
With my baby perched on the edge of the nest about to graduate high school, Michelle's book spoke to me, even as I'm now parenting adult kids.
I talked with Michelle last week about her latest book and about how she's more than survived as a mom.
Michelle and I talked on the phone for nearly an hour. I was in extroverted sanguine heaven. 
This week I'll be sharing portions of my interview with her.
But that's not all! (Isn't that what all good infomercials say?)
One person is going to win a signed copy of her book.
But that's not all!
The winner will also receive some of Michelle's and my favorite chocolate.
I'll announce the winner on Friday, June 5th.
I'll also divulge our favorite chocolate.
I know, the suspense is killing you!
Now to the interview:
Jean: Michelle, you're the mother of two college-aged girls, Abby and Allyson, you're married to your high school sweetheart Jeff, you've written over 70 books and 1,000 articles, you've won many awards for your writing, and you speak and teach around the country at churches and conferences.

In your book, you quote film director Randall Wallace's pastor saying, "The greatest call you can have is the one God has for you."

What would you say your call is?

Michelle: I think we have more than one calling.

Of course, the greatest call for all of us is to be obedient to God's call. It's the same on all of our lives – to serve Him every day.

But my ultimate call is to be ready for His next direction.

I'm plugged into God, so I hear His voice every day. I'm constantly in communication with Him, and I do whatever He's called me to do that day.

He's called me to be the best wife and mom I can be.

After that, I'm a writer and teacher. I teach at conferences and churches, encouraging men and women to be the best they can be for God.

I think it's important to figure out what God has put in you. I walk in the gifting God's given me, and it plays out in every area of my life.

I've often been described as a cheerleader. That's what I am. I have that call to encourage.

In 1999, I went to a writer's conference hundreds of miles away, spending money we didn't really have at the time, to learn to write for children. I wanted to get the Word into young children. I was a trained journalist, but I knew I could learn more about writing for children.

I went to a class taught by a famous author. She said, "I hope there's another class you can go to, because the children's market is closed. It's a no-win situation."

I thought, What? I can never make it?

I went back to my room that night and said, "I don't think so. I'll show you."

I made God a promise. "If You ever bless me with the ability to publish for children, I promise I'll help others get published."

I'm a fighter. I'm sassy in the Lord. If I hadn't been, I may have given up. But I made a promise, and I've kept it. 

I've won many awards because I was obedient to the call God gave me. 

So the children's market is closed? Not to God.

I could've given up. Satan wanted to use that conference speaker's words to derail me, but God used them to catapult me to the next level.

God is no respecter of persons, but of faith.

The greatest test can be the greatest testimony.

I had to make a decision that day: Do I believe what God's telling me or what someone else, who may have been having a bad day, is telling me?

It was a turning point in my life.

That speaker is a well-known expert and is still doing well. But how many people gave up that day?

If God has called you to do it, you have to be confident in your call.

You may have to tweak something and work to get better, but that base call that's deep in your heart pushes you on.

To be continued . . .
---
Wise words from Michelle:
If God has called you to do it, you have to be confident in your call. (Tweet This)
If you're a parent, guess what . . . you're called.
You may not feel confident in your ability, but you can be confident in your call.
God will be everything you need at every moment to enable you to accomplish your call.
He's the Great I AM.
---
ENTER TO WIN:
Do you like chocolate? Do you like chocolate desserts? Not only is Michelle's book filled with inspirational wisdom for moms and stories you can't put down, but it's also full of delectable chocolate dessert recipes.  
Follow along with my interview with Michelle and enter each day to win.
You can enter by logging in below through your Facebook or email, or you can simply leave a comment in the comment section to enter. 
The winner will receive a signed copy of Michelle's book and some of her favorite and my favorite chocolate.
You won't get the chocolate in the picture. Those are great, but they're not our favorite.
Can you guess what each of our favorite chocolate is? Leave a comment.
If you guess right, I'll add your name in an extra time for each one that you guess right. (We don't have the same favorite.)
The winner, and our favorite chocolate, will be announced on Friday.
Don't forget to leave a comment in the comment section to enter. Every comment that you leave is another entry, so leave a comment every day on each post. 
---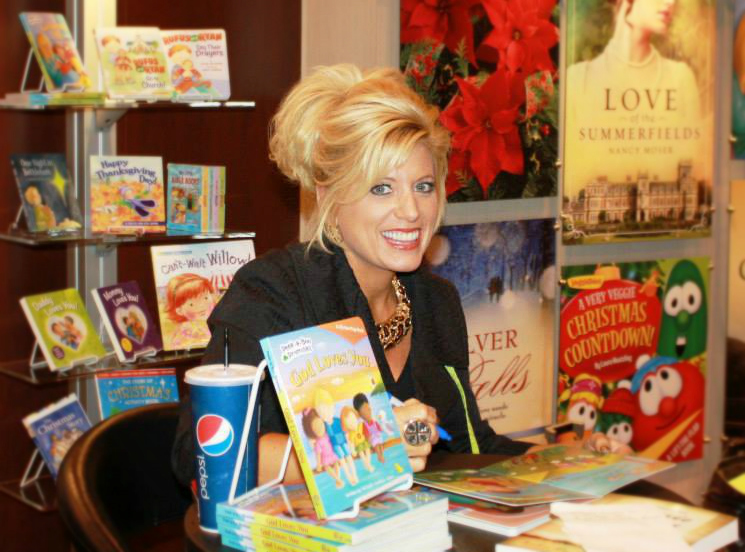 Michelle Medlock Adams is an award-winning journalist and best-selling author, earning top honors from the Associated Press, the Society of Professional Journalists and the Hoosier State Press Association. Author of over 70 books and a regular blogger for Guideposts, Michelle has written more than 1,000 articles for newspapers and magazines since graduating with a journalism degree from Indiana University.
In May of this year, Michelle's children's books, What Is Thanksgiving? and God Is Always With You were both Selah Award Finalists for the Best Children's Book 2015. In October 2014, her book Encouraging Words for Mothers (Barbour) won the Award of Excellence for Nonfiction Books from CLASS Christian Writers Conference Book Contest. And, her book God Knows You won "The SELAH Award" for Best Children's Book in 2014, as well as "Book of the Year." Also, her children's book, My Big Book of Prayers, claimed "The SELAH Award" for Best Children's Book in 2012.
When not working on her own assignments, Michelle ghostwrites books for celebrities and some of today's most effective and popular ministers. She helped pen a New York Times Bestseller in 2008. Her books: When Chocolate Isn't Enough: An Inspirational Survival Guide for Moms (Worthy), as well as Trunk or Treat (Worthy Kids) and Samson Strong and Faithful (Concordia/Arch Books) debut this year. Michelle is also a much sought after teacher at writers conferences and universities around the nation. In fact, she has served as an adjunct professor at Taylor University twice, teaching "Writing for Children Boot Camp." Michelle also loves speaking to women's groups, youth groups, and congregations, encouraging others to discover their destinies in God.
Michelle is married to her high school sweetheart, Jeff, and they have two college-aged daughters, Abby and Allyson, as well as a miniature dachshund and four cats. When not writing or teaching writing, Michelle enjoys leading fitness classes at Priority Fitness, and cheering on the Indiana University Basketball team, the Chicago Cubbies, and the LA Kings. www.michellemedlockadams.com
Facebook https://www.facebook.com/#!/michellemedlock.adams
Twitter and Instagram: INwritergirl
---
Click to Tweet: