Did My Packing Pass the Test? You Be The Judge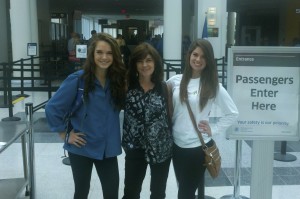 Coordinate Your Clothes: My Grade: 95

There were only 2 items of clothing I didn't wear on my trip?
1) My little black dress! But that's because I bought two even better dresses in a little French market in the village of Vernon, outside of Giverny.
(I'm not taking points off my score for that since I didn't know that I'd find such treasures when I originally packed.)
2) My grey and yellow blouse. I broke my rule because I just had to have my favorite shirt (claiming the Pack Your Favorite Clothes rule over-rules the Coordinate Your Clothes Rule, but since it didn't coordinate, I forgot I even had it.)
(I should probably take off more than 5 points for breaking my own rule, but since it was extremely thin, it barely took up room in my packing folder.)
Take Advantage of Modern Technology in Fabrics: My Grade: 90

My winter jacket was very warm, but light and easy to pack. Worth the cost!
My shirts were thin, synthetic materials that dried almost instantly. It made hand-washing a breeze, and made the change in weather from cold to warm manageable as they layered comfortably.
My pants did not make the modern fabric technology grade, but because they were durable, they looked fresh even after days of being worn.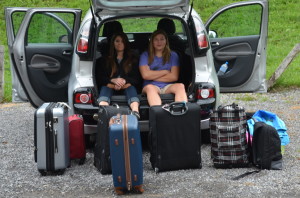 Pack Your Favorite Clothes: My Grade: 100

While Karen and I fantasized about throwing some clothes away to lighten our load, I cheerfully wore the same outfits simply because I loved them.
For Long Trips, Wash on the Road: My Grade: 100

I kind of feel bad about taking credit for this grade. My friend Julie washed our clothes half way through our trip. We washed a few items a long the way, though, and hung them up on the sink to dry during the day. Easy! (Note: On colder days clothes don't like to dry.)
Pack e-Books: My Grade: 75

I saved valuable space in my carry-on by having only e-Books, but I didn't consider that I'd most want to read when we weren't allowed to use electronic devices. Then when we were given the green light, I discovered I'd not actually downloaded the books. They were only "ready to download," so I had nothing to read on the flight over. On the flight home, my battery was low. I'm back to packing a paperback.
Unavoidable Mishaps: Grade: Pass

Plan all you want, you'll still have unavoidable mishaps. (Mishaps are basically Pass/Fail. I managed to overcome, so I gave myself a Passing grade.)
Europe's weather taught me I could have packed even less clothes. I packed for very little cold weather and lots of warm. We got the opposite. I wore the same two cold weather outfits like a revolving door. Sounds bad except I loved the outfits.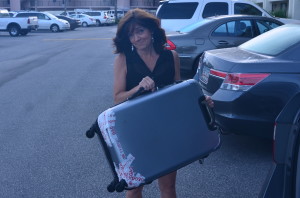 On our flight home, US Airways baggage handlers in Munich mutilated my suitcase, breaking one wheel completely off which left a gaping hole. Another wheel barely hung on, but was useless without its twin, anyway. Carolyn and I taped it up in Pittsburgh and hoped for the best for the rest of its flight home. At our final destination, US Airways gave me a brand new suitcase very similar to my mangled mess.
I've never thrown my suitcase away at the end of a trip. It was an interesting, somewhat sad, feeling. My trip was over and so was my suitcase. But I have a brand new suitcase ready to take on a brand new adventure!
Do you think I passed the packing test? What packing tips can you share? Please leave a comment below!